I've been going through cleaning up some models in preparation for the DLS cutoff. Hopefully some of these are of use....
In some cases, I've updated the items to '09 version; in others, they've remained at 2.4 or 2.6. All these are now on the DLS....
Single-stall enginehouse and turntable (separate models; TS2009+):
These have been sitting on my hard drive for a couple of years, just waiting for the final cleanup and lods. The enginehouse has automagic opening / closing doors, and is set for use with Ben's 4-4-0's, Terry's 2-4-0's, and my 2-6-0's. Larger engines will fit, but the door might close a touch prematurely. Try increasing the trigger radius in the script a touch if you have this problem with your chosen engine.
The enginehouse also uses tunnel track, so you won't (shouldn't?) get smoke going through the roof, and your view will change to the engine once it goes inside the building.
The turntable is built into a hill, so you'll need to fiddle with the ground elevation a little to get it to match the model. Using a 5m grid will help, but probably isn't required.
Blue baggage cart (TRS2004+):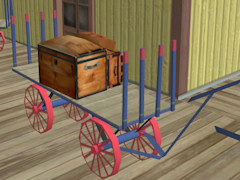 Based on an article in NG&SLG which gave an older color scheme for Wells Fargo carts. Someday, I'll add a more detailed lod0 and perhaps normal map, but for now, just a new skin.
SP crossing sign (TRS2004+)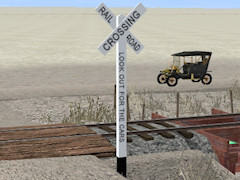 Based on a 1923 photograph, this is a non-functional (won't stop traffic) sign. Pair it with a sign-less crossing for car-stopping fun.
Cattle guard #5 (TS 2009+)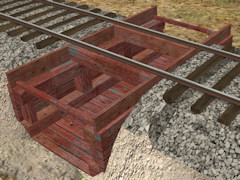 Another small bridge - use as a cattle guard, or perhaps to cross a small stream or ditch. It uses the same bridge mesh library as my other '09 bridges, so hopefully it will be a touch easier on performance. To be honest, I thought I had uploaded this a while back

Oil House (TS2009+)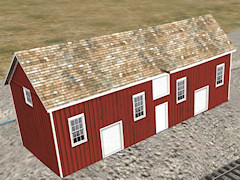 The prototype for this building was in the Carson City yards. I'm not sure what it was used for (storing oil, perhaps?) Anyway, it's one of about a gazillion buildings in those yards that I'll eventually build.... It may be useful as a generic yard building.
Curtis